LUCIANA GIMENEZ ADMITS CRISIS: "I AM IN A PENSIVE MOMENT, AS YOU KNOW"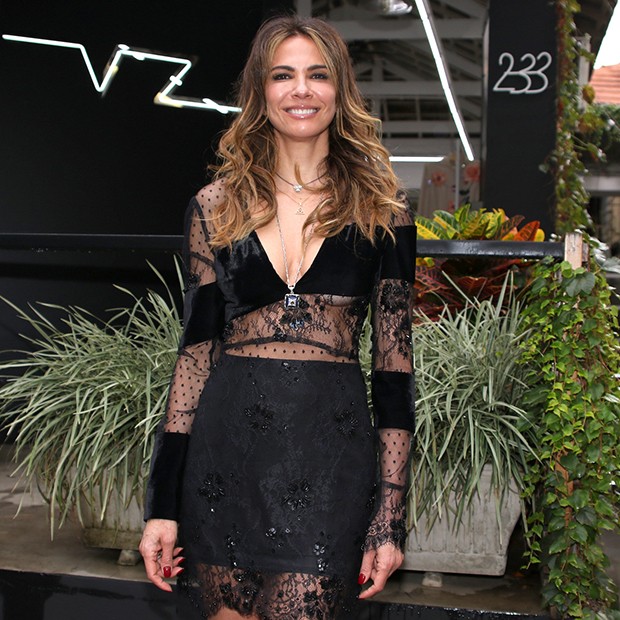 Back in Brazil after spending the Easter holiday in Mustique, the Caribbean, at the home of Mick Jagger , the father of his eldest son, Lucas Jagger , Luciana Gimenez hasalready made his first professional appointment. She honored the inauguration of the first store of the designer Vitor Zerbinato, on Tuesday (3), in São Paulo. In addition to her were the actresses Lucy Ramos and Carol Marra and the top Vivi Orth.
The hostess came to the event with a short dress with long sleeves and lots of transparency. It also struck her that she was not wearing a wedding ring. At age 48, Luciana has been facing rumors that her marriage to businessman Marcelo de Carvalho would have come to an end. The couple, who has a 7-year-old son, Lorenzo , put up for sale the triplex of $ 80 million in São Paulo.
"I was traveling with Lucas, and our Easter was wonderful, always good to be with the children, we stayed at his father's house, Mick is a good friend. a normal thing, "she said, who did not want to answer about the separation.
"I'm not going out a lot, I'm in a pensive moment of my life, as you know." I'm trying to organize my life, I'm not going to talk about it, I'm in a quiet moment. he said, playing in sequence. "I think I'm going to become a lesbian, I'm kidding. We'll get it right, it's going to be all right."
READ MORE: Luciana Gimenez enjoys Paris without a wedding ring
On Lorenzo's birthday, however, Marcelo appeared without a wedding ring . Without making an official statement, Luciana has made indirect the situation on the Instagram, including posting a video in which she sings with Lorenzo an excerpt from the song "Loka" by Simone and Simaria , saying "Leave that face aside, you just chose the wrong guy ".
READ MORE:  Luciana Gimenez makes insinuations of alleged divorce