F**k It, I'm Just Going To Wear A House Dress Until Further Notice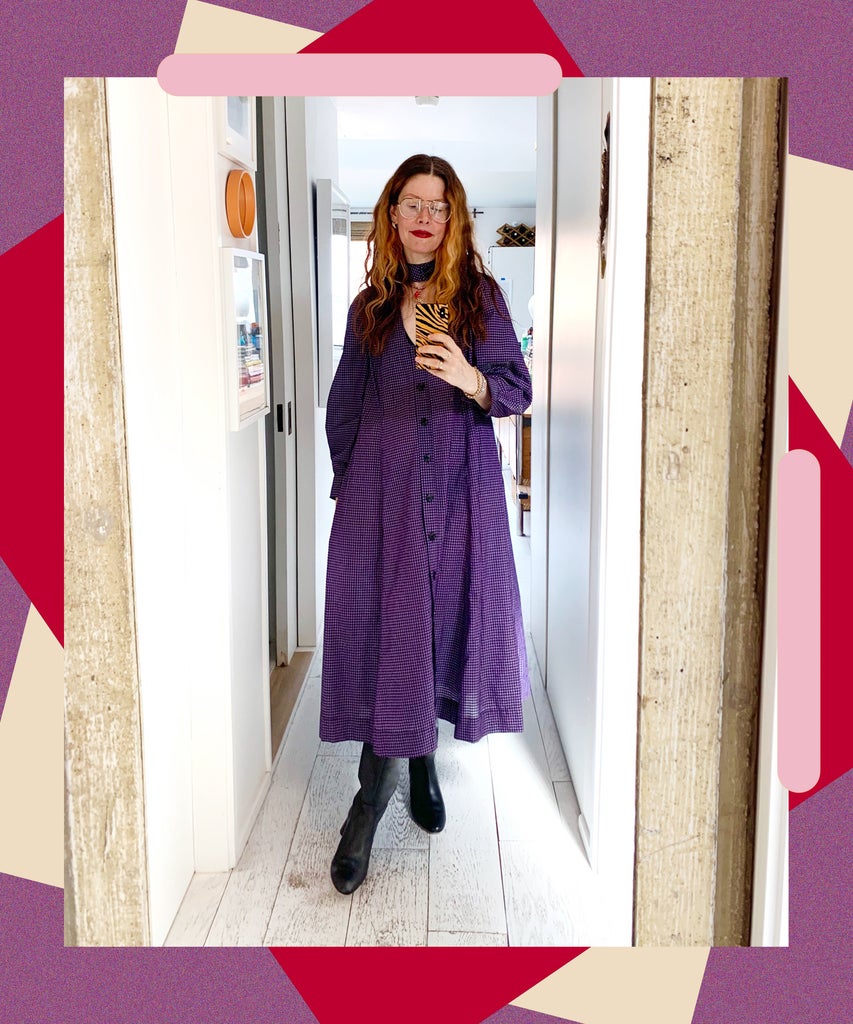 For the past four to six weeks most of us in America (minus emergency/hospital/essential business people doing God's work), have been pacing the confines of our homes. Moving from one chair to another, or — if you're lucky — from one room to the next for a change of scenery, only occasionally peering out the window or into our closets with tense looks/feelings. It's definitely easy to experience a sort of existential crisis when it comes to clothes these days. What's the point? You might wonder to yourself.
I'm wondering, too. Fashion seems trivial right now, given the plight of the world raging against the threat and impact of COVID-19, and at the same time, each of us being so uncomfortably close to our own thoughts and anxieties. The state of our lives demands whatever we wear indoors or out on a quick 6-foot sanity walk be as functional and effortless as possible, especially lately when the rare occasion to put on a shoe that's not a sneaker might as well be a party. Which is why a House Dress makes sense right now, and maybe always has. While most of the stuff in your wardrobe is not likely to see the light of day until, say, June (prepare yourself, and, by all means wear your finest when the spirit moves you), the House Dress was literally designed for (many weeks of) moments like this. Reckoning with life and a general urge to streamline and optimize, in my experience, usually begins in the underwear drawer; housekeeping, if you will.
Cleaning, or more aptly, living in a House Dress is obvious, given it was originally coined as such for its most popular consumer, the Housewife, who back in pre and post-war years purchased most of her simple-patterned machine-wash-and-wear styles through mail-order catalogs (practically a precursor to ecomm). Lucille Ball, most definitely one of television's most famous "housewives" (who also happened to be the first woman to run a major Hollywood studio) made me idolize house dresses just as I idolized her before I even knew how to write my own name.
The House Dress isn't a "style" so much as a calling—commanding we lay claim to our homes and our work, whatever that may be, in a serious way, unencumbered by super-cinched waists, zippers, or, God forbid, a big ruffle that might make it tricky to climb a ladder or sit for three straight hours on Zoom calls. Yes, it's definitely a good time for free-flowing frocks. Dresses sensibly fashioned with looser waists, longer hemlines and gigantic pockets for carrying around anything you might need at a moment's notice like, say, lip balm, cookies, Kleenex, or hand sanitizer (yes, I use this indoors, just in case, and maybe you do, too). If you were my late Italian grandmother, you might also use those deep pockets for stuffing freshly picked dandelion leaves you'd just collected from our front lawn when I was a kid, to be lovingly sautéed later that evening with lentils and spices. (If only I still had a lawn to speak of, maybe the wait for an Amazon Fresh delivery slot wouldn't be so unbearable.)
If you're like me, though, you don't have any outdoor space for scavenging greenery, but you probably do have timely chores to confront, especially now when we have ostensibly more opportunities to notice dust piling up on baseboards. Here are some things I've been doing in a House Dress lately: Jumping jacks, eating sardines on toast standing by the kitchen window, cleaning things I don't typically clean like the gunky top of the exhaust hood over the stove and inside cabinets that have been carpeted with a medley of old cereal. Playing with your kid on the floor in a House Dress works, too, if you have kids, whether you're stacking blocks or going 12 rounds in an attempt to change a poopy diaper.
Sorry to your pants, but they just don't cut it these days. I myself have (or had) an overabundant bottoms section in my closet. While trimming it back, I tried on a wonderful pair of printed silk trousers to see if they still fit. Button and zip, no problem. Bent down to buckle the platform sandal I was trying them on with and they didn't just split up the back — the right butt-cheek literally evaporated. Just GONE.
That wouldn't have happened in a House Dress. Bending down for anything? A non-event.
To be totally honest—and if you've seen how I dress, you probably know this—I didn't need a global pandemic to turn me onto House Dresses. I've been a devoted wearer of oversized, amorphous garments since I was a teenager, when the idea of a crop top or a short skirt literally gave me hives. In college, I happily hid beneath XXL Champion sweatshirts with cargo pants. Years later in my late 20s as a single woman, I remember sitting at a bar with an old friend while she spent the better part of a perfectly good night lecturing me about how I needed to dress "sexier" if I wanted to ever have sex or get a boyfriend. Just recalling that conversation makes me uncomfortable, like I can't breathe. (Breathing is never a problem in a House Dress.)
I haven't spoken to that person in nearly 20 years.
And, here's the thing about a House Dress, the modern version that's a bit more boxy: It isn't sexy, at least not intentionally. Because that's really not the point. A House Dress is for YOU and you alone. Do with it as you wish. The Swiss Army Knife of garments. Wear it at home or to a dinner party (when communing with others is no longer a health threat). With a chic wellie, a chunky sneaker, or a treaded platform sandal. People like to wear a House Dress barefoot, too, but that's almost too basic for me. But please, don't listen to me…wear it like you like it.
I myself am thankful to designers like Acne, Ganni, Rachel Comey, Molly Goddard, and Marni for giving House Dresses a cultural calling card all their own. High drama without the high stakes of being restricted in any way, shape, or form. Today's House Dress has pictures of Louise Bourgeois and Georgia O'Keeffe on its inspiration board and cares not a lick about looking sexy at a bar. A House Dress, in all its pure basicness, merely wants to liberate your genuine self.
No bullshit. Just breezes.
We are still (safely) sequestered at home until Dr. Fauci tells us it's okay to start living—and dressing—among the rest of the world again. But, if you're like me or my good friend who told me she recently cut her entire wardrobe down to just 40 pieces, you likely won't ever dress the same again.
And, that's probably a good thing.
COVID-19 has been declared a global pandemic. Go to the Public Health Agency of Canada website for the latest information on symptoms, prevention, and other resources.
At Refinery29, we're here to help you navigate this overwhelming world of stuff. All of our market picks are independently selected and curated by the editorial team. If you buy something we link to on our site, Refinery29 may earn commission.
Like what you see? How about some more R29 goodness, right here?
Some Of You Never Learned About Inside Clothes
What To Do With Your Clothes If You Go Outside
Powered by WPeMatico