Here's Where You Can Buy Non-Medical Face Masks Online Right Now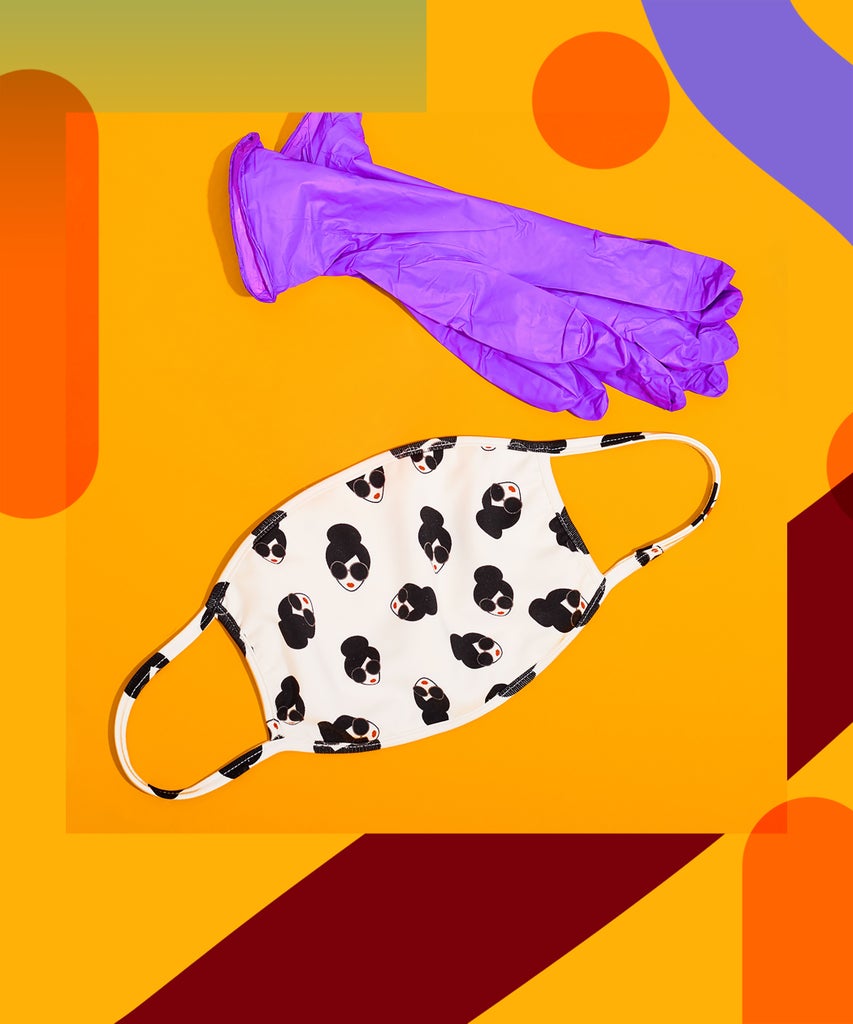 The Public Health Agency of Canada (PHAC) now says wearing non-medical (cloth) masks in public can help slow the spread of COVID-19 alongside social-distancing and frequent hand-washing. The reason? As many as 25% of people who get the virus could be asymptomatic so being overly thoughtful by covering your face might not be a bad idea.
As a result of this update, you can expect a massive spike in the production and purchase of cloth face coverings within the lifestyle and fashion spaces. In fact, we're already seeing brands pivot to making coverage options more accessible to all. Canadian fashion designers like Toronto-based gender-free label Spender Badu and cruelty-free brand Hilary MacMillan are stepping up to help in addition to the thousands of DIY templates and tutorials online. These efforts don't just allow for more people to buy masks for personal use, it prevents them from purchasing medical-grade materials healthcare workers on the frontlines require to do their jobs safely.
While we can't tell you whether or not you need a non-medical face mask to protect yourself, we can help you shop masks online if you choose to seek one out. Read ahead for a list of resources. And don't forget: It's still considered best practice to not touch your face when wearing your mask!
Spencer Badu is helping by sewing 1,000 face masks a week in support of
the #MGH1000Masks Challenge. For every mask
purchased, one will be donated to Michael Garron Hospital; a donation to the Humber River Hospital will also be made. These cotton masks are handsewn with a built-in
removable 3M air filter system and should be washed daily. The air filter is
one-time-use only so just be sure to carefully discard it.
Click here to order the Limited-Edition Spencer Badu Face Mask
This Toronto-based designer is producing 100 non-medical
masks each week for front line workers in Ontario. The masks are not available
for personal purchase, however you can make a donation which will help
shelters, charities, grocery-store employees and elderly homes.
To make a donation email info@hilarymacmillan.com.
This NYC-based sport bag brand has launched an initiative to get
non-medical grade masks to as many people as possible. Reusable,
machine-washable, and designed for comfort, these masks — available for
pre-order for the week of April 17 — are constructed from excess fabric
cuttings of Caraa bags to reduce waste and make use of these leftover pieces
for good.
To pre-order a pack of 5 non-medical masks, click here.
Since the beginning of this outbreak, fashion brand Alice + Olivia has
been mobilizing its teams to create and distribute protective masks to
hospitals and communities in need. Now, they're helping to stop community
spread with non-medical protective masks made available to the public. The
masks are made from jersey material for reuse, wash-ability, and comfort and
are currently available for pre-order for the week of April 20. Plus, for every
mask sold, Alice + Olivia will donate one to the medical community and beyond.
To pre-order a Staceface Protective mask, click here.
After a few prototypes following guidelines set forth by the City of
L.A. and the California health care non-profit Kaiser Permanente, the factory of fashion
brand Monogram managed to create its own non-medical community masks. While
they sold out of 10,000 masks within the first 24 hours, Monogram expects to be
going live with even more inventory in a few days. Each order includes two
masks shipped to its purchaser along with two additional masks donated to
workers at essential businesses in L.A. The masks are 100% cotton jersey,
machine-washable, and reusable.
To request to be notified when a pack of 2 non-medical cotton jersey masks
is available, click here.
While it's tough to find any of the essentials like toilet paper
or hand sanitizer on Amazon these days,
you can occasionally get your cyber paws on packs of disposable masks made from
non-woven fabrics for easy breathability. If you can't order them right away,
you can still make a purchase now for a delivery in late April or May.
To order a pack of 100 disposable face masks, click here.
This practical luxury goods brand is making non-medical grade masks for
personal use that are available in packs of five to purchase or to donate. The
masks are reusable and machine-washable, and a portion of proceeds will be
donated to the CDC Foundation's
Emergency Response Fund.
To order a pack of 5 reusable face masks, click here.
While you won't find any
medical-grade products available on Etsy, many of its crafty vendors have
shifted to selling handmade masks and other fabric gear that serves as a
barrier between you and your surroundings.
DIY Mask
If you're feeling crafty,
grab some supplies (elastic, fabric, and a sewing
kit), a pattern, or freestyle a mask of your own.
COVID-19 has been
declared a global pandemic. Go to the Public Health Agency of Canada
website for the latest information on symptoms, prevention, and other
resources.
Like what you see? How about some more R29 goodness, right here?
Yes, There's A Right Way To Wear A Face Mask
Canada Has Changed Its Mind About Cloth Face Masks
Powered by WPeMatico