Samsung Galaxy S20+ 5G, S10 and S10+ are 20% off in the UK until April 14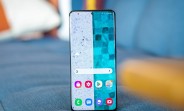 Samsung is holding an Easter sale through its online store in the UK for three of its smartphones, which have become 20% cheaper. This will be ongoing until April 14.
First off, the Galaxy S20+ 5G can now be had for just £799.20. Compared to its usual price of £999, that's a cool £200 you're saving if you want to gift one to yourself (or someone else) for Easter.
Galaxy S20+ (left) next to Galaxy S10+ (right)
Next up, the Galaxy S10+ is currently going for £615.20. It used to be £769 before this promo. The Galaxy S10 can be yours for £535.20, and not £669 as usual.
That is, of…
Powered by WPeMatico