Xiaomi Mi 10 Pro 5G in for review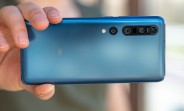 The Xiaomi Mi 10 Pro 5G has arrived at HQ and we've got some impressions to share. But first, an unboxing.
Our unit came with a USB cable and a 65W charger – no other accessories whatsoever.
Right off the bat, the Xiaomi Mi 10 Pro 5G strikes us with its great feel in the hand.
Its rear has a matte, almost satin-like finish that is somewhat slippery but lovely to the touch. The phone is substantial at over 200g which you either won't care about or hate, depending on how you normally carry your phone.
It makes up for that weight with a quality 6.67-inch Super AMOLED screen of…
Powered by WPeMatico