Amy Powney Wants You To Fall In Love With Your Clothes Again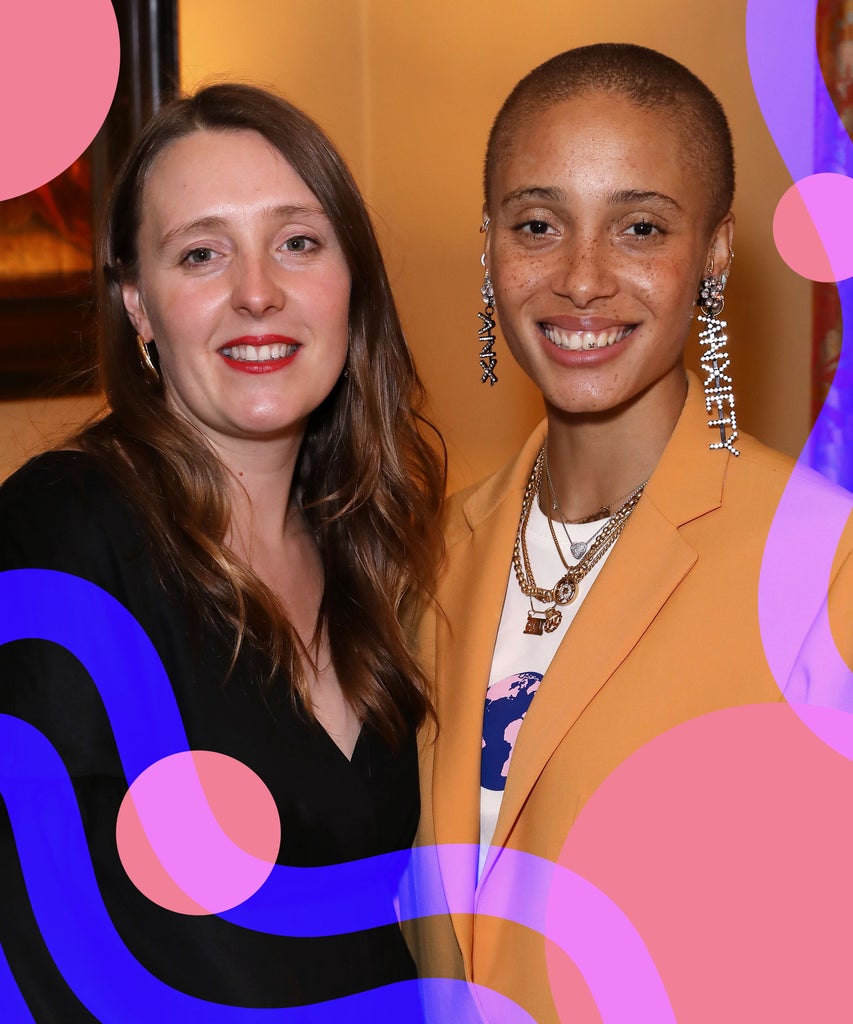 Amy Powney, creative director of the fashion brand Mother of Pearl, has sustainability in her bones. Growing up in a caravan located in the countryside of North England will do that to a person. "We had a wind turbine for electricity and spent a lot of time without the classic amenities that most people have," Powney explains. "Things have never been at the click of a button for me." And in her career, with her sights always set on fashion, her upbringing naturally played a role. "I'm constantly asking myself 'Where does it come from?' about everything."
At university, after reading the words of Naomi Klein in the anti-globalization book No Logo, Powney got to thinking about her own impact and how, even in a small way, she could make a difference in terms of consumption. Now, of course, her impact isn't so small.
"That was 15 years ago," Powney says. "Ever since then, with everything that's going on with climate change, I just try to wake up every day and do something about it." Not long after graduating from fashion school, Powney took an entry-level job at London label Mother of Pearl. Over the next nine or so years, she worked her way up to the top, but not before completely rebranding the business in order to make it into something that she, green roots and all, could be proud of.
Once she had, though, Powney quickly realized that there was more for her to do.
"I worked really hard to turn Mother of Pearl into a sustainable brand," she says. "But then, when I started talking about that to the press, I realized just how much of a disconnect there was between what they thought sustainability was and what it actually means to buy sustainable fashion." That's when the idea for #FashionOurFuture was born.
As someone who's lived and breathed sustainability since day one, Powney can spot greenwashing, or the act of companies claiming to be more sustainable than they are, from a mile away. Many publications weren't getting it right either, with some taking things too seriously and isolating themselves while others wrote token sustainability articles without truly doing the research. "There wasn't really a platform in the middle that didn't give fashion a really hard time, that didn't give the concept of expressing yourself a hard time," Powney says. "I wanted to create something that simply helped people understand a little bit more, gave them solutions, and actually talked them through the concept in a fun and engaging way."
Inspired by actress and activist Jameela Jamil's very successful I Weigh campaign, which created a community for people to openly share their opinions on social issues via Instagram, Powney came up with the idea for #FashionOurFuture, an Instagram account that asks followers to make a pledge to be more sustainable and post about it.
In February, after garnering support and pledges from her friends, who include Amber Valletta, Lyn Slater of Accidental Icon, Eva Chen, Derek Blasberg, and Adwoa Aboah, Powney launched the campaign at London Fashion Week with overwhelming success. "It's been brilliant," Powney says. "We've already garnered more than 7,000 followers in the first couple of weeks."
At its core, #FashionOurFuture is about nine pledges, including "Are You Fur Real?," a pledge to stop buying fur, "Are You An OAP?," a pledge to only buy vintage, and "Are You An Oversharer?," a pledge to share when you outfit repeat to lessen the stigma associated with it. When you're ready to make a pledge, all you have to do is take a selfie, place a GIPHY sticker from the "FashionOurFuture" section over the image, and post it to your Instagram stories. From there, screenshot the story, upload it to your feed, and share your pledge with your followers, nominating as many people as you want to join in the movement.
"The platform is basically about creating our own content around the issues, but in a fun, engaging way, so that it's hard-hitting content, but delivered in a way which doesn't scare people," Powney explains. "It's 100% about bringing people into the conversation rather than telling them off. Because telling them off just pushes them away."
By making one of the nine pledges and posting about it for the entire #FashionOurFuture community to see and experience with you, people feel as if they're being held accountable for actually following through on their pledge. As a result, something as small as posting on Instagram can actually force someone to cut fur out of their wardrobes or repair their clothes rather than simply buy new ones.
One of the biggest goals for Powney with #FashionOurFuture is to show people that they can do something — even if it's small — and that it can still make a difference.
Now, in the midst of a global pandemic, it's hard to imagine a better time to make a pledge to #FashionOurFuture, especially given the fact that according to Dr. Aaron Bernstein, Director of Harvard C-CHANGE, climate change creates favourable conditions for infectious diseases like COVID-19 to spread. In addition, Dr. Bernstein states that those exposed to more air pollution — an effect of climate change — are far more likely to be affected by COVID-19 than those who aren't.
Amy Powney knows this, which is why she's created Self(ie) Isolation, a campaign meant to push those in self-quarantine to make a pledge to be more sustainable. In it, you'll find recommendations like, "fall in love again with your old clothes (let's be honest, 'virtual meetings' have a much more casual dress code)" and "travel to Narnia (we've checked and it's not part of the travel ban), sell what's at the back of your wardrobe."
"While we're lounging around on a TV binge, our planet has been given a much-needed break," the campaign reads. "Now more than ever, we can clearly see the impact of our actions. Let's use our time at home to think about our relationship with our wardrobes and use the incredible power of social media to connect and inspire positive change during this difficult time. We are here to help every step of the way with your pledge. Remember, no one can do everything, but everyone can do something."
Peruse all nine of the #FashionOurFuture wardrobe pledges and make one of your own today.
Like what you see? How about some more R29 goodness, right here?
Canada Abandoned Fashion — That May Prove Deadly
These Tees Are The COVID-19 Fashion We Need
Powered by WPeMatico