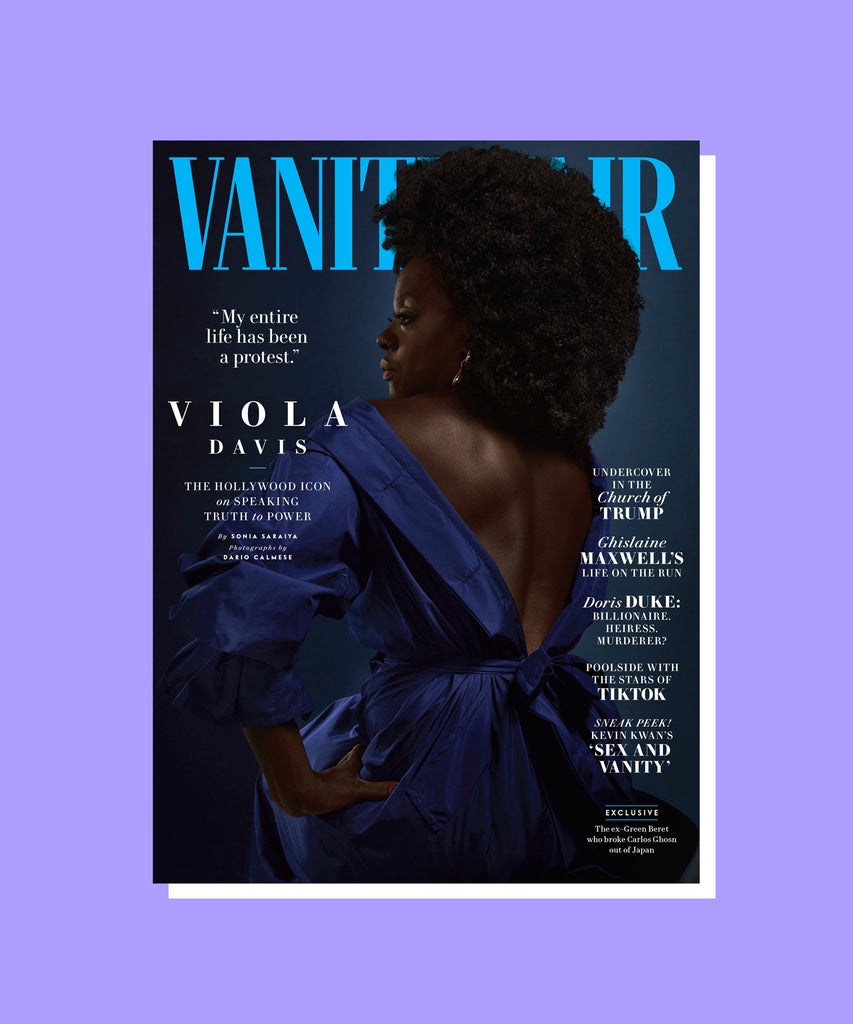 Vanity Fair, the Condé Nast-owned magazine created to share "parties, the arts, sports, theatre, humour, and so forth," was first published in January of 1914, according to a feature the magazine published about itself. "Your magazine should cover the things people talk about," Frank Crowninshield said when he interviewed for the position of editor. Today, 106 years later, when the only topic more top of mind than the global pandemic is the Black Lives Matter movement, Vanity Fair has finally commissioned its first Black photographer to shoot the cover — a cover that stars none other than Triple Crown-winning actress Viola Davis.
On Tuesday, Vanity Fair's July/August 2020 cover story, titled "My Entire Life Has Been a Protest" hit the stands. On it is a regal photograph of Davis's profile taken by artist, director, consultant, and photographer Dario Calmese, a man whose work has been instrumental in the Black fashion community for years. For starters, Calmese directed Pyer Moss's critically acclaimed spring '20 fashion show which famously took place at Brooklyn's iconic King's Theatre. The show closed out creative director Kerby Jean-Raymond's three-part series titled "American, Also" which explored the question of what it means to be Black in America today.
Apart from Vanity Fair, for whom he's worked with for over a year now, Calmese's clients include The New York Times, The CFDA, and CBS. He's written for Business of Fashion and worked with Beyoncé. And yet, this is his first cover shoot for the magazine.
In an Instagram post following the story's publication, Calmese thanked his cover star "for being [his] co-conspirator." He also thanked Vanity Fair; Kira Pollack, the magazine's creative director; Tara Johnson and Michael Kramer, its visual director and visual producer, respectively; and editor-in-chief Radhika Jones for the opportunity and for "believing in [his] vision."
"Thank you to every black woman who's felt invisible despite being on the front line of every fight. We see you. You are loved, you are powerful, and you are beautiful. This is for you," he wrote.
On the cover, Davis can be seen wearing a stunning navy blue Max Mara gown. The photo, which shows off the open back of the dress, was meant to recreate "The Scourged Back," a portrait from August of 1863 of an enslaved man named Gordon who escaped a Mississippi plantation, according to The New York Times.
Later in the story, a perfectly lit shot of the actress in a black Armani Privé velvet gown and gold baubles makes an appearance. This follows the Vogue (also owned by Condé Nast) August cover shoot featuring Olympic gymnast Simone Biles. Shot by longtime Vogue photographer Annie Leibovitz, the photos were criticized by many on social media for not being lit in a way that compliments Black skin tones. Morgan McCarthy, the National Picture Editor at The New York Times tweeted: "I adore Simone Biles and am thrilled she's on this cover… but I hate these photos. I hate the toning, I hate how predictable they are, I hate the social crop here (wtf?) and I super hate that Vogue couldn't be bothered to hire a Black photographer." Vogue, founded in 1892, has only hired one Black photographer to shoot its cover, and that only happened after Beyoncé pushed for him. The photographer in question, Tyler Mitchell, is now one of fashion's most sought after photographers.
Jones said in the VF letter from the editor that only 17 Black people have graced the cover of the magazine "in the 35 years between 1983 and 2017." Since making her way to the helm of Vanity Fair two and a half years ago, she's already featured 10 Black female subjects on the cover. That same increased visibility must also exist behind the scenes — and now it does. "This is [Calmese's] first major magazine cover, and we celebrate him and honor his vision at this heightened moment in American history," Jones said.
Like what you see? How about some more R29 goodness, right here?
This Photographer Just Made <em>Vogue</em> History
Pyer Moss Spring 2020 Celebrates Black Women
Powered by WPeMatico