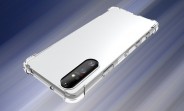 While the second generation Xperia 10 improved significantly, it's still not a replacement for a proper Xperia 5 II flagship. Unfortunately, Sony has made no mention of such a phone – however, a few cases have surfaced on Alibaba, revealing a possible design.
Alleged Sony Xperia 5 II renders
The images show what is essentially a smaller Xperia 1 II with the recognizable 21:9 aspect ratio of the display with classic bezels. There's a fingerprint reader on the side plus a 3.5 mm headphone jack on top.
Around the back we find a triple camera that seems lifted strait off the…
Powered by WPeMatico