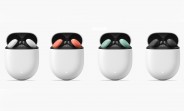 The 2nd-generation Pixel Buds are getting their first "feature drop". This update (first of [hopefully] more) will unlock new options and features for the Pixel Buds.
In a Blog post, Google highlighted three new features: bass boost, sharing detection, new translate transcription features, Attention Alerts, and a new Find My Device feature.
In addition, the colors are now available from Google in three new colors. After initially launching in Clearly White, the Buds can now be purchased in Oh So Orange, Quite Mint, and Almost Black.
The Pixel Buds weren't known for delivering…
Powered by WPeMatico