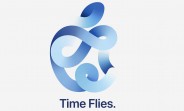 Apple's first big fall event is upon us but it's nothing like past September events. For starters there won't be any iPhone announcements, despite this being the usual time iPhone announcements happen.
Instead Apple will release a pre-recorded video through its website, YouTube and Apple TV.
The event titled 'Time Flies' – a subtle hint at the centerpiece of the event – will be all about the Apple Watch, the iPad Air, Apple software and a few interesting announcements.
Apple Watch Series 6
The Apple Watch Series 6 will be the star of the show. It's expected to build on the…
Powered by WPeMatico