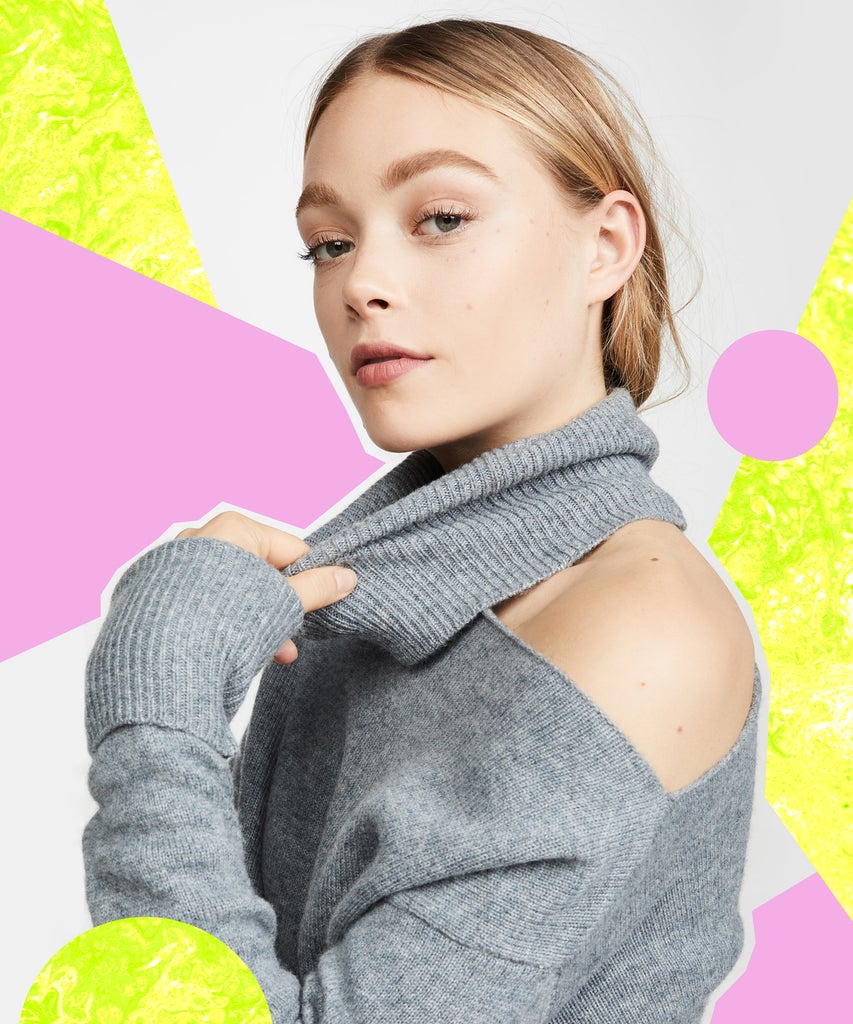 We loved our cold-shoulder tops as wintertime going-out tops. Usually long-sleeved, this late-2010s-era silhouette was once the item of choice for 20-somethings who frequented 1 Oak in Manhattan's Meatpacking District and ate at Lisa Vanderpump's restaurants in West Hollywood, and didn't want to also have to carry a jacket. It's been a few years since we've worn them, especially now that "going out" is something more like a hypothetical concept. But, we've been digging our cold-shoulder tops out from the backs of our closets once again, thanks to people like Dolly Parton, who wore one to get the vaccine — the same one she helped fund. Given how easy her top made getting jabbed, we wouldn't be surprised if the vaccine will bring about the second coming of the cold-shoulder top. 
the perfect reason to wear a cold shoulder top! https://t.co/LvNbhBKsFI

— Marshall Bright (@itsmarshallb) March 2, 2021
In a video Parton posted on Twitter, captioned, "Dolly gets a dose of her own medicine," the Grammy winner showed off her purple, cold-shoulder top and shared her excitement over getting the vaccine, saying that she's "old enough" and "smart enough" to get it. Her tweet, which has been retweeted more than 26,000 times, caught the attention of writer Marshall Bright, who replied: "The perfect reason to wear a cold shoulder top!"
Might order this for my vaccinations. pic.twitter.com/tduzdEQlTM

— ohchrissavidge (@ohchrissavidge) February 22, 2021
In February, Liverpool, England-based user @ohchrissavidge tweeted a screenshot of a Revolve model wearing a turtleneck, cold-shoulder sweater from Paige, with the caption, "Might order this for my vaccinations." The post blew up, with over 450,000 likes and 58,000 retweets, and counting. In the thread below, others including Geraldine Desu admitted to wearing their own arm-baring tops to their winter appointments: "I did this to my doctor and she couldn't stop laughing about it," she tweeted. A vaccination site worker from Indianapolis named Jessica praised the idea: "This is a huge hit with the staff. Had one patient yesterday with a similar top. It was the perfect choice for her vaccination."
And if you're looking for new cold-shoulders to buy, the good news is that designers are still making them. Last week, New York-based designer Christian Siriano presented his fall '21 collection, which included a handful of cold-shoulder options just waiting to be worn for your impending vaccine appointment. Some even came with matching face masks.
Whether you like it or not, cold-shoulder tops are once again in our good graces — and not just because we miss going out. But if memories from the first time around remain too close for comfort, fellow New York designer Marc Jacobs has another, very Marc Jacobs solution: Just strip — but whatever you do, don't forget your pearls. 
Like what you see? How about some more R29 goodness, right here?
Dolly Parton Gets Dose Of The Vaccine She Funded
Inside The Fierce Hunt For Leftover Vaccines
Powered by WPeMatico