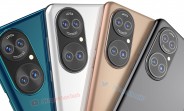 Welcome to your second serving of high-quality renders of the Huawei P50.
The renders were done by Waqar Khan, based on leaked schematics and rumors of the upcoming phone.
The Huawei P50 looks similar to the Huawei P50 Pro, of which we've also seen renders. There are two large circles meant to house camera lenses. The renders show two lenses per circle for a total of 4 cameras.
The Huawei P50 is expected to have a standard wide angle camera, an ultrawide and a telephoto (non-periscope), while the P50 Pro will have a wide + periscope + ultrawide and the P50 Pro+ will have a…
Powered by WPeMatico