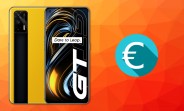 Realme slipped up and accidentally revealed the European price for the Realme GT 5G. No, it's not €400, the real price is €550. This is for the 12/256 GB version, available only in Racing Yellow (China also received a more affordable 8/128 GB variant).
Okay, so that's pricier than initially hoped, but this will still make the GT the cheapest Snapdragon 888-powered smartphone in Europe.
The Realme GT 5G page that appeared on Realme's EU site
The page on realme.com (now removed) notes that the phone will be shipped only to Belgium, Germany, Luxembourg, the Netherlands and Portugal….
Powered by WPeMatico