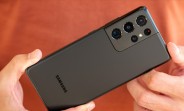 Samsung Electronics is announcing its new partnership with film directors aimed at showcasing the Samsung Galaxy S21 Ultra's capable cameras. The company is partnering with British film director Joe Wright, known for his work on Pride and Prejudice and Atonement.
Source: Samsung Newsroom
The campaign will start with Princess & Peppernose, directed by Joe Wright. This musical film uses both live-action choreography and puppetry, all captured by the Samsung Galaxy S21 Ultra. Check out the official trailer below.
We chose to embrace the wider lens, something we'd never…
Powered by WPeMatico