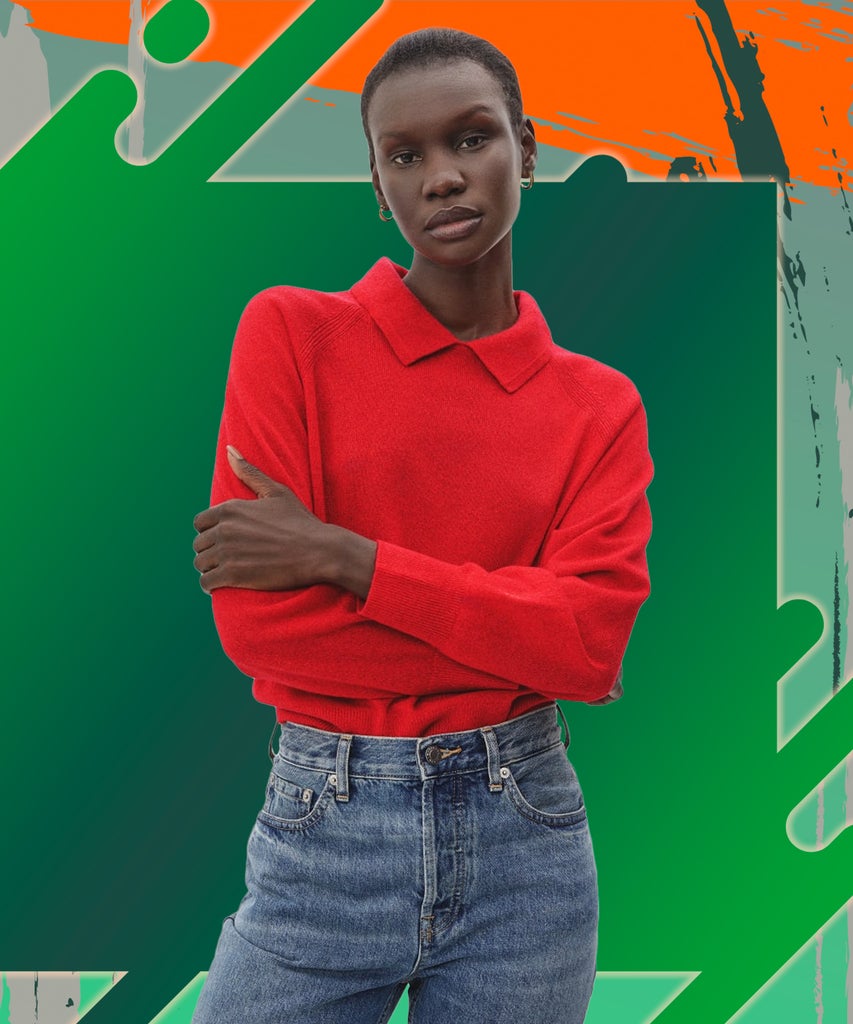 If there's a tried-and-true fashion brand that consistently delivers high-quality, sustainably made wardrobe essentials, it's Everlane — but you already knew that. Every one of the brand's apparel offerings is perfect for capsule-building. The brand's pleasing color palette is, well, palatable. And, the competitive price points always offer plenty of bang for your buck.
Over here on the Shopping team, we track, obsess over, and inevitably acquire every new Everlane launch — underwear, denim, swimsuits, activewear, you name it (heck, even tube tops!). If Everlane releases it, we will wear it. And, you best believe that for the holidays, everyone on our list will be receiving at least one of the brand's greatest sartorial hits.
And speaking of hits, there's one category where Everlane really sings — the sweater, that crucial cold-weather fashion item du jour and supremely giftable wardrobe staple. The good news is that Everlane's got a fresh crop of styles (including new additions to the women's cashmere assortment and alpaca best-sellers) that are already flying off the digital shelves. The bad news is that you're now tasked with making tough decisions on which ones to score.
So ahead, we've broken down some of the most coveted knitted wares from Everlane to consider wearing (or gifting) for the holidays — along with stats on how they're currently ranking based on customer reviews. A couple of these sweater styles are so fresh that they don't even have enough data yet and, for those, we tapped some teammates to give the new knits a classic test drive. Now, go on and have yourself a cozy time.
The Cashmere Sweater With A Touch Of Romance
You gotta love a sweater with a charming collar — it makes the wearer look presentable at all times. Expect a super soft handfeel, a cropped cut, subtle blouson sleeves, and a slightly billowy fit.
Product Breakdown: Available in 5 colors in sizes XXS through XL
The Hype: 4.49 out of 5 stars and 41 reviews on everlane.com
What They're Saying: "I was not sure if this sweater would work for me but I liked the pecan color so much I decided to give it a try. I am so glad I did because it ended up being my favorite. It has a cropped waist that is very flattering for a petite lady. The sleeves are slightly ballooned but it is very subtle. The material is thicker than I had expected and I am obsessed with the little details around the shoulders. The collar is very cute and looks great poking out under layers. The sweater has a bit of a vintage vibe and feels very wholesome. Looks great with high-rise pants or skirts. I just love it." — JustineS, everlane.com reviewer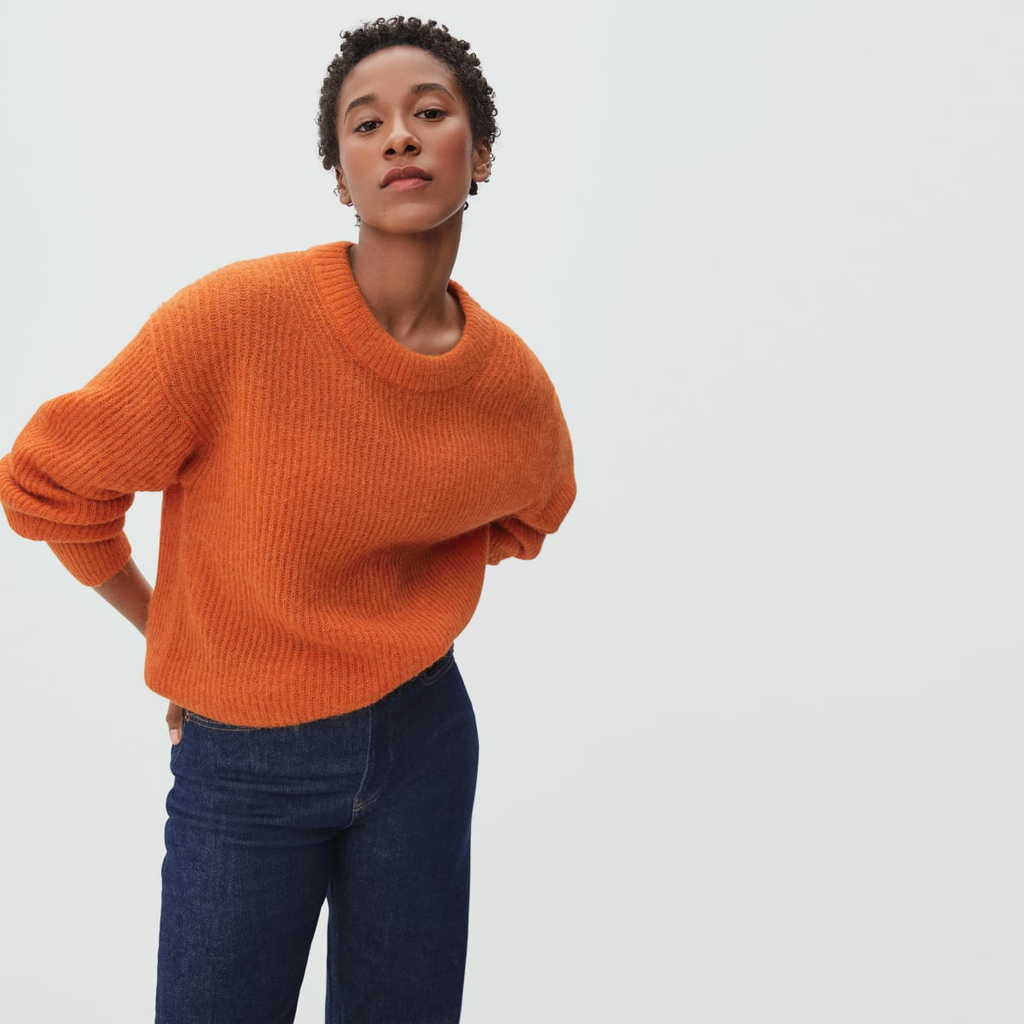 The Big-Fit, Fluffy Cloud Alpaca Sweater
What you're seeing here is Everlane's first alpaca sweater, which is likely why this style has nearly 2.5K enthused reviews. It's incredibly voluminous but light-as-air, cozy but not at all thick. And, offered at a solid one hundo dollars, it just may be the goldilocks of sweaters.
Product Breakdown: Available in 10 solid colors and 2 tonal colors in sizes XXS through XXXL
The Hype: 4.61 out of 5 stars and 2,493 reviews on everlane.com
What They're Saying: "Love this item. The wool is less thick than I expected and it is itchy a bit (compare to the reviews I had read) but I still think it was totally worth it. Warm and cozy and the cut is just amazing. I chose XS and don't regret it. It could have been a S too, but XS fits perfectly and is not tight at all." — SJeanne, everlane.com reviewer
The Classic Turtleneck Sweater, Turned Up
Leave it to Everlane to take a basic style and knit in some cool new details. This is made from 100% ReCashmere — Everlane's upcycled cashmere fabric — which means that this isn't the usual soft-as-butter texture. Instead, it's fairly lightweight, a little drapey, and waffle-y.
Product Breakdown: Available in 8 colors in sizes XXS through XL
The Hype: 4.40 out of 5 stars and 205 reviews on everlane.com
What They're Saying: "I read a bunch of the reviews for this sweater before I decided to make the jump and try it. I have to say in all honesty after reading so many 5-star reviews I have to agree, they are all true! This sweater does it all and looks stylish while doing it. The buttery soft cashmere is warm but not hot and I love all the colors. On a recent trip I found it to be great for chilly plane rides, a foggy day at the beach, and dressy enough with jewelry and boots for a dinner out." — kaikai, everlane.com reviewer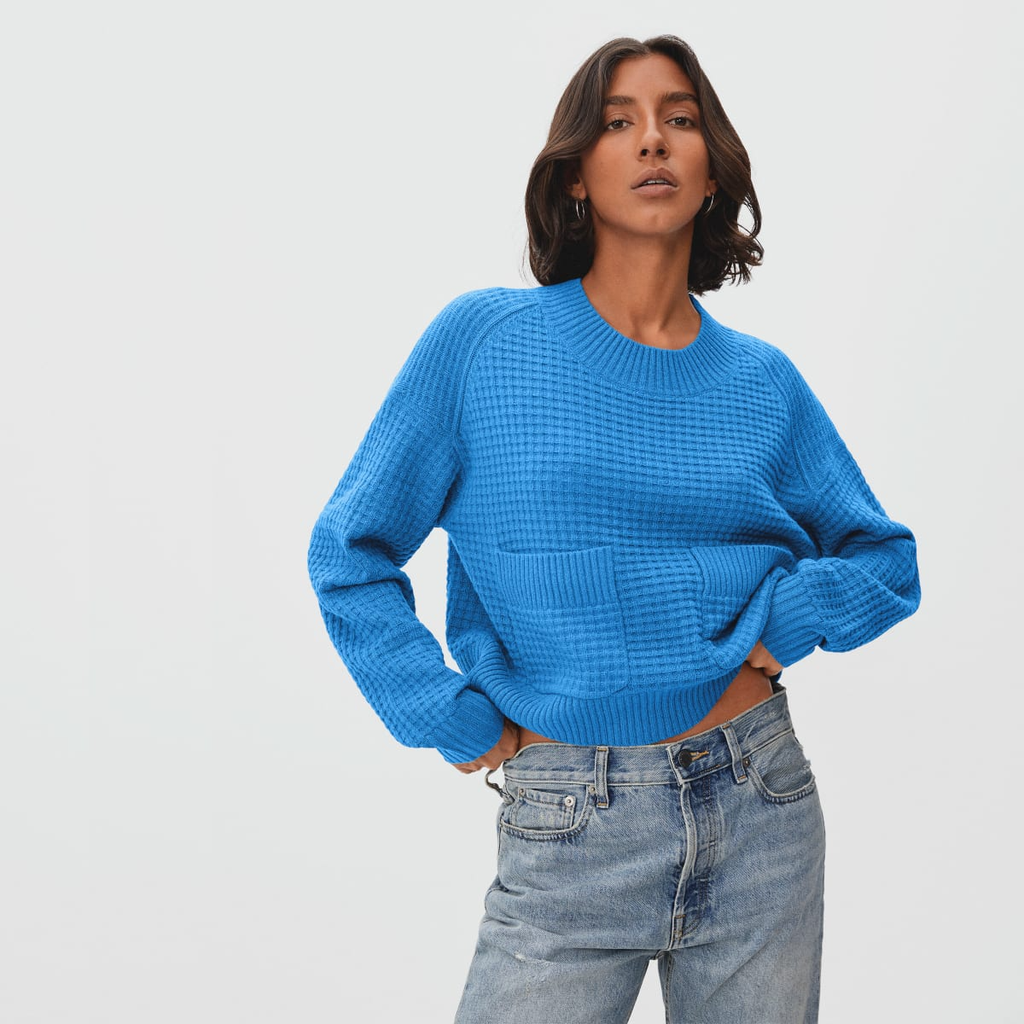 The Pick-A-Pocket Boxy Sweater
Similar to the turtleneck sweater above, this one is also made from 100% ReCashmere — which means that it's easy-breezy and has that basket-weave-like texture. This one is perfectly boxy and cropped for those in-between-season days, and less ideal for actual warmth.
Product Breakdown: Available in 4 colors in sizes XXS through XL
The Hype: 4.91 out of 5 stars and 11 reviews on everlane.com
What They're Saying: "I was first taken aback by how un-cashmere-like this sweater felt, but then I read that it was made from the brand's ReCashmere yarn, which then pleased me to know the materials had been reworked. So while this may not be the softest or coziest sweater from Everlane's lineup, it's extremely versatile and easy to throw on because it's so airy. It has a true-to-size oversized boxy silhouette (with a subtle crop), and the sleeves run long, so I'd recommend sizing down if you'd like a less roomy fit. What really sets this sweater apart from the other knits in my closet are the two handy front patch pockets, which I'm actually grateful for." — Jinnie Lee, Refinery29 freelance fashion writer
The Wear-Everywhere Cashmere Sweater
Consider this the new standard when it comes to cashmere sweaters. It's unfussy, simple, and bound to be a fan favorite. It's made from 100% Grade-A cashmere so it's got that buttery-soft texture, and it comes in your usual selection of neutral hues with some unexpected brights peppered in.
Product Breakdown: Available in 12 colors in sizes XXS through XXXL
The Hype: 4.63 out of 5 stars and 30 reviews on everlane.com
What They're Saying: "I've been eyeing this sweater for a few years and I'm so glad that I finally bought one. It's so soft and the drape is so flattering. I feel like I treated myself to something timeless and beautiful. Substantial weight and warmth, but it's thin enough to layer easily. I absolutely adore this sweater." — GuinnessThePup, everlane.com reviewer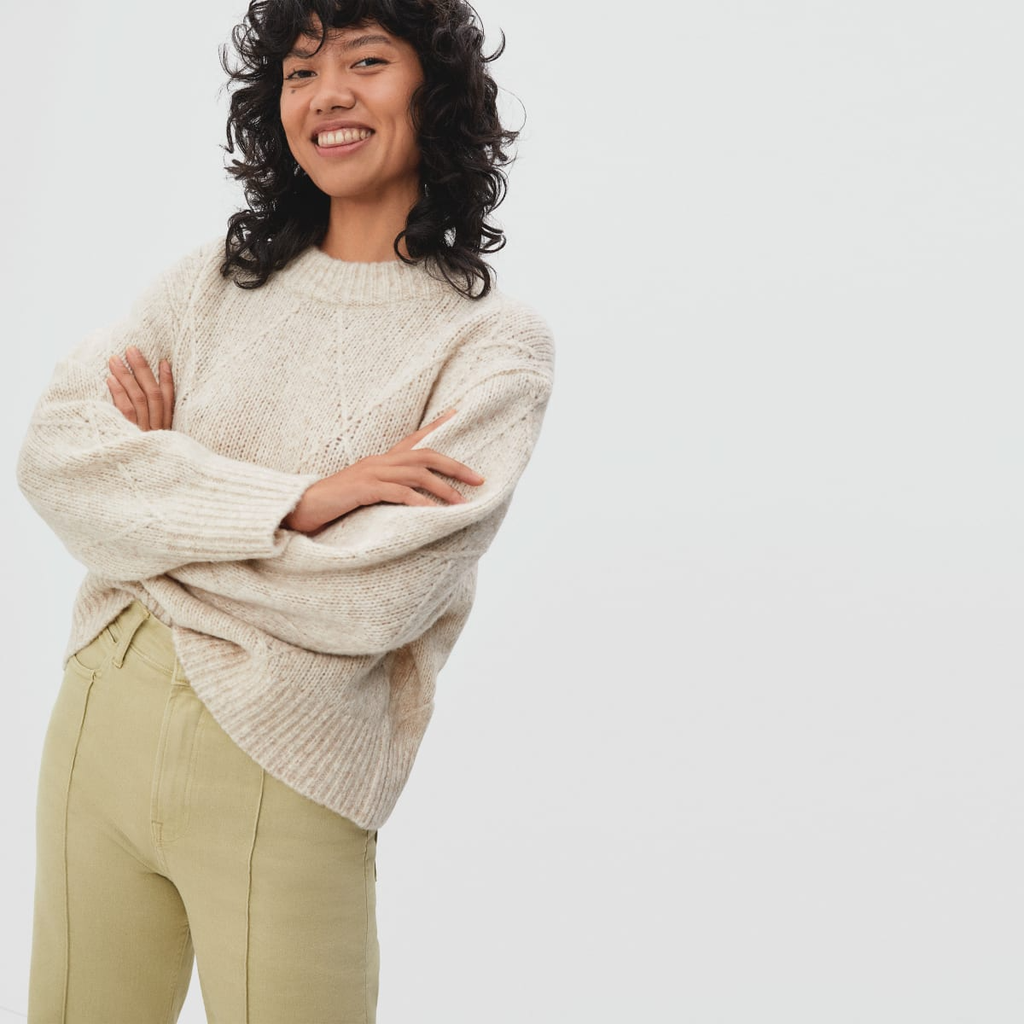 The Cozy Sweater With A Subtle Cable-Knit
This oversized sweater consists of a unique blend that is 42% merino wool, 31% pima cotton, and 27% alpaca — a mix that begets a cloud-like pullover that is surprisingly extra-cozy without any of the itch. It's also got a subtle stitched design that's a cross between cable-knit and argyle. Good stuff.
Product Breakdown: Available in 5 colors in sizes XXS through XL
The Hype: 4.79 out of 5 stars and 14 reviews on everlane.com
What They're Saying: "I was pretty impressed with the quality of this sweater. It feels and looks solid and weighty, but the added diamond stitching also makes it seem kind of delicate, but not delicate in a way where it would pill or snag. It feels sturdy! Because the sweater is made from a wool blend, I was initially concerned that it may feel rough or itchy on the skin, BUT I literally tried it on without a shirt underneath and it felt soft and comfortable! No scratching or skin irritation. As far as fit, I would say it runs true to size. I'm really petite (5' 1") and ordered an XS in the heathered ivory color. It has a boxy shape but doesn't read oversized on the body. I'd say it's more of a relaxed fit with plenty of room to layer a tee or even a button-up underneath. I'd personally recommend sizing up if you want a true oversized look. The color is also very accurate to the photo on Everlane's website. Overall, the price point on this baby is high, but I do think this is a case where you get what you pay for. It gets my good-investment stamp of approval." — Kate Spencer, Refinery29 affiliate strategist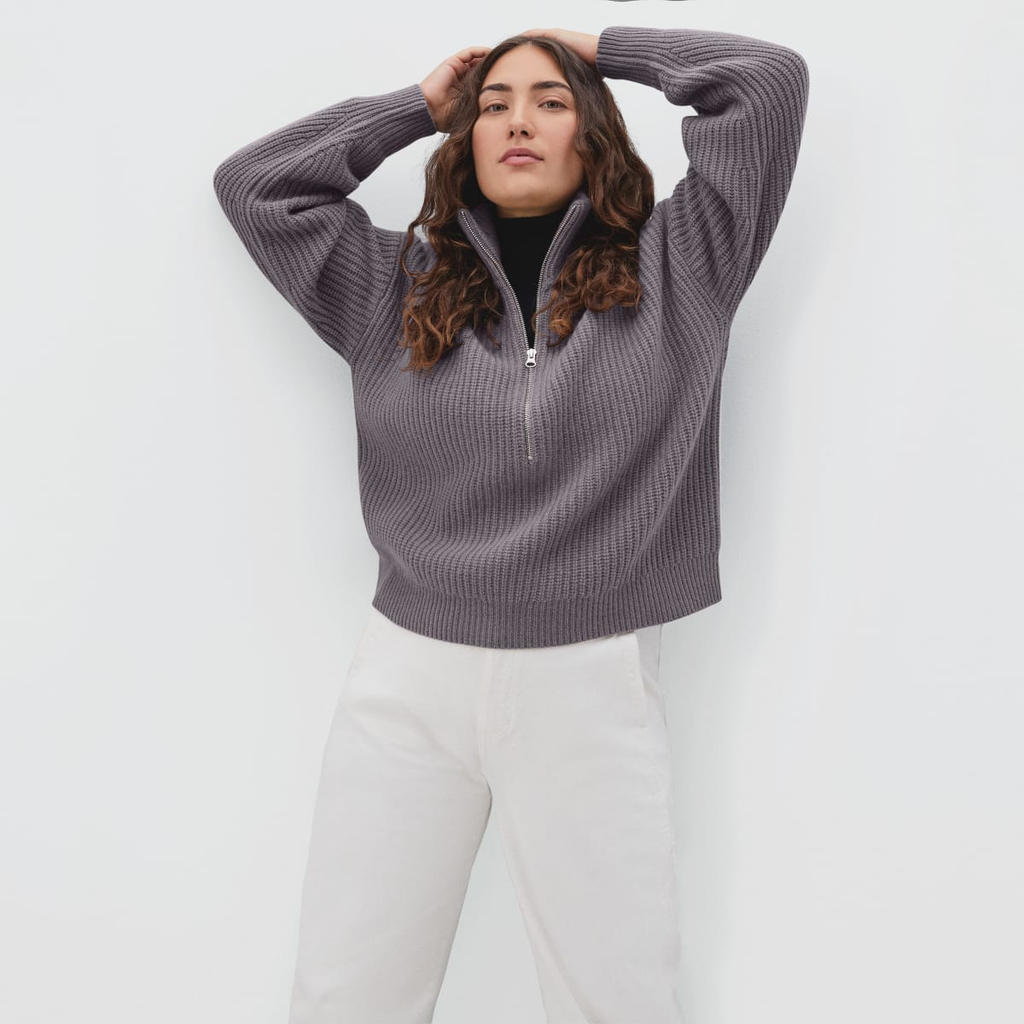 The Half-Zip Sweater With Throwback Vibes
This one's for the sporty, outdoorsy sweater folks. It appears to be a true half-zip, meaning it actually zips half-way down the chest (as opposed to only a quarter-way). Material-wise, this is made from 100% extra-fine merino wool, which means it packs in all the warmth and coziness.
Product Breakdown: Available in 7 colors in sizes XXS through XL
The Hype: 4.69 out of 5 stars and 195 reviews on everlane.com
What They're Saying: "Randomly saw this on the website and was debating ordering online but talked myself out of it. Then, randomly went to the store and saw it in person and tried it on – never have taken it off since. The material is soft, cozy, but light and the cut is a little boxy but not super wide. It fits really well with just the right amount of casual looseness. I would buy all the colors but resisting hard!" — Bringmecake, everlane.com reviewer
At Refinery29, we're here to help you navigate this overwhelming world of stuff. All of our market picks are independently selected and curated by the editorial team. All product details reflect the price and availability at the time of publication. If you buy something we link to on our site, Refinery29 may earn commission.
Like what you see? How about some more R29 goodness, right here?
We Tried Everlane's Best-Selling '90s Cheeky Jean
11 Of The Best Lightweight Puffers On The Internet
Powered by WPeMatico