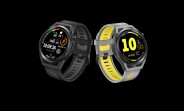 Huawei held a big conference in China today where it announced a slew of new devices. There's the new smartwatch dubbed Huawei Watch GT Runner, the Windows 2-in-1 convertible MateBook E, the MateStation X desktop PC and VR Glass 6DoF glasses.
Huawei Watch GT Runner
Following the Watch GT 3 series announcement in October, Huawei is bringing a sports-oriented smartwatch dubbed Watch GT Runner. As the name suggests it's a sportier version of the Watch GT 3 with a reinforced polymer fiber construction weighing in at 38.5 grams compared to the Watch GT 3 Pro's 63 grams.
Watch GT…
Powered by WPeMatico