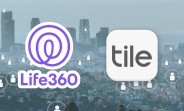 Life360, the company behind the app by the same name, which allows you to share your locations with friends and family, will acquire Tile in a deal worth $205 million. The deal is expected to close in the first three months of the new year.
This union will be beneficial for both companies. For starters, the 33 million smartphone users that have the Life360 app installed will join Tile's Finding Network, which is predicted to increase its reach by around 10 times.
Tile trackers rely on Bluetooth, but that has relatively short range and the connection to your phone can quickly be lost….
Powered by WPeMatico