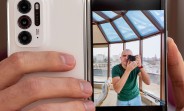 Hello – my name is Ivan, and I'm the resident photographer here at GSMArena.com! This is my list of favorite phones for the year and you can tell right away that it's a bit boring and predictable. In my defense, I like the biggest and absolute best phones with the more versatile and capable cameras.
But I did include an odd phone or two that piqued my interest for other reasons.
So let's get started. I'll list the devices in reverse order, so the last is my absolute favorite.
Samsung Galaxy Z Fold3 5G
I went to the press event for the Galaxy Z Fold3 and Z Flip3 announcement…
Powered by WPeMatico