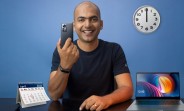 Manu Kumar Jain, former managing director of Xiaomi India, is under investigation over possible breach of India's foreign exchange laws, Reuters reveals, quoting two sources with direct knowledge.
The executive, currently global VP and residing in Dubai, UAE, is already in India but did not respond to a request to comment.
Manu Kumar Jain, Xiaomi Global VP
India's Enforcement Directorate is looking into the relationship between the Chinese company Xiaomi and its Indian division. Fund flows between the two entities are being reviewed, and that includes royalty payments.
The…
Powered by WPeMatico