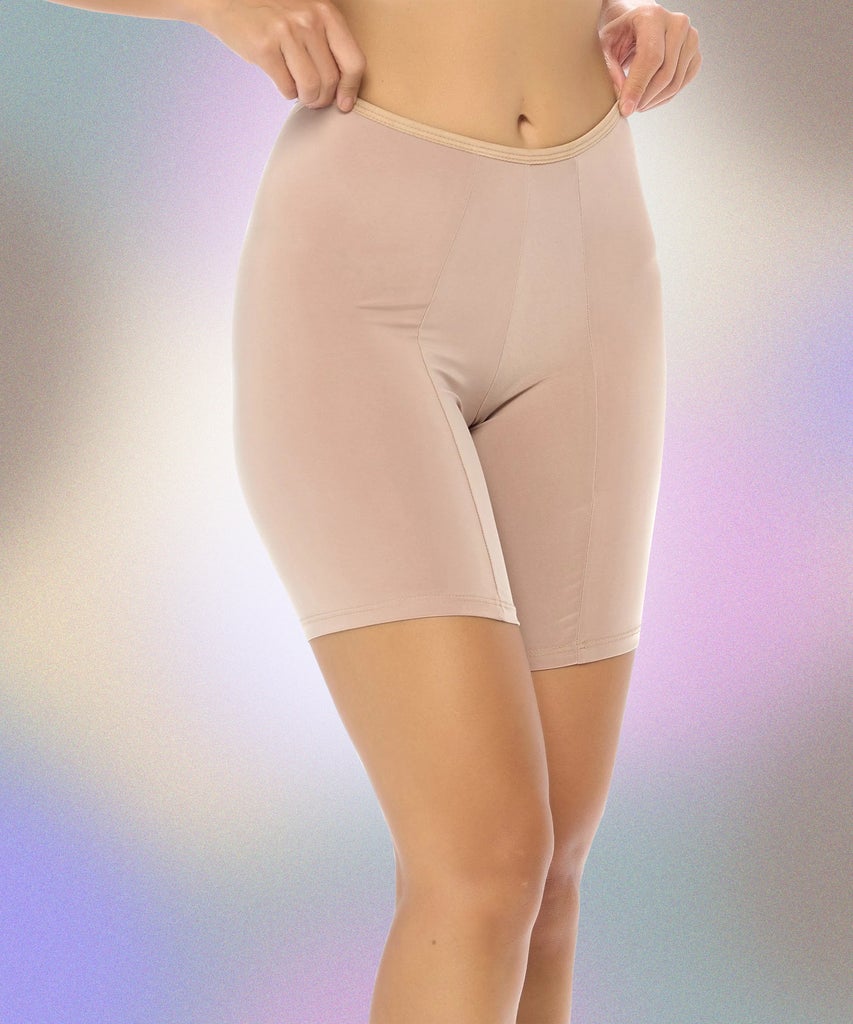 Now that it's spring and the hemlines on dresses and skirts are rising — some to dangerously micro levels — I need to put you onto what I call "safety shorts." It's a form-fit layer that's specifically worn to prevent the dreaded chub rub or thigh chafing that comes along with wearing non-pants. Safety shorts also provide peace of mind when an unexpected wind (or gust from a subway grate) decides to upskirt your dressy outfit. They can also be worn for good hygienic measure so that your hoo-ha isn't making direct contact with public seating or the ground (if you're out at a picnic, for example).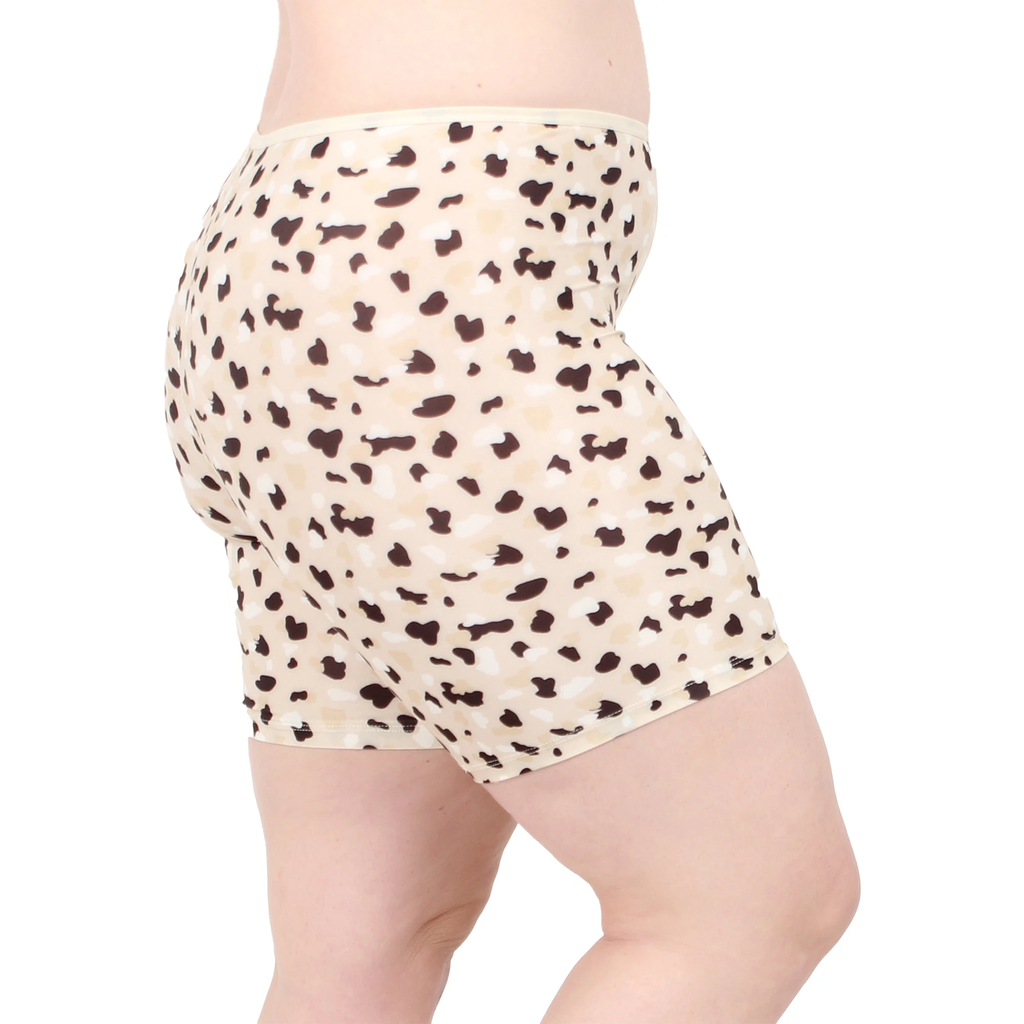 Shop all Undersummers
Up until recently, I've had great difficulty looking for the perfect pair of safety shorts. Bike shorts are too thick and too compressive, boyshorts feel too much like underwear and aren't high-waisted enough, and shapewear basically gives me all-day cramps while it crushes my inner organs. So, when a brand called Undersummers — specializing in a whole collection of what founder and CEO CarrieRae Munson calls the "shortlette" — got on my radar, I had to give it a whirl and a twirl on the first day of mini dress weather. I wore a pair of the Classic Anti Chafing Shortlette Slipshort 6.5″ with the most babydoll dress I own — even a slight arm raise would normally expose too much if it weren't for these skivvies underneath.
"The shortlette was designed to be lightweight and cool with a barely-there feel, kind of like going commando but completely covered!" Munson tells R29. "The most important functional elements of the shortlette are that they are a single layer undergarment with a cotton gusset so you don't need additional underwear, the legs do not ride up or roll, nor does the waist, and my patented seam-free inner thigh makes these a long-lasting investment piece." I, too, would confirm to all that — I even rode my bike and didn't once experience the shortlette rolling up the leg or rolling down the waist. It's contouring without being tight and it's silky-slinky to the touch without making things too sweaty in the crotch area.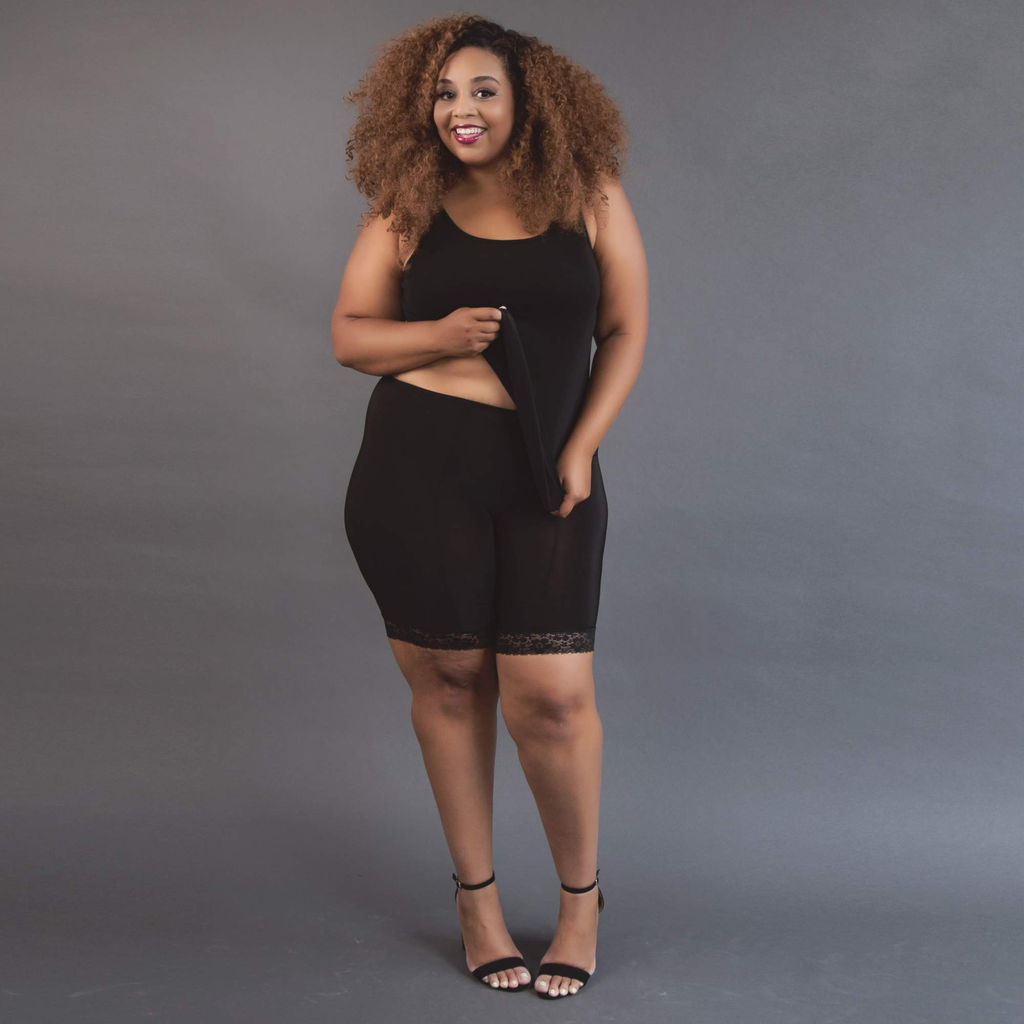 Shop all Undersummers
Munson's brand Undersummers — the name comes from "under summer" dresses — was founded in 2011 while she was working as a speech pathologist but has since grown to have a low-key cult following with customers discovering the brand via searches and social media. The Classic Anti Chafing Shortlette Slipshort 6.5″, for example, boasts 4.6 stars and 2,329 reviews with people saying things like, "I absolutely love these slipshorts, they are just as comfortable as panties and made for all-day wear. I love that I no longer have to wear biker shorts under my dresses which can be uncomfortable and taxing especially in the heat. With the slipshorts, I'm only wearing one item under my dress instead of two (panties + thick biker shorts)."
Shop all Undersummers
Shortlettes are available in S to 5X, a size-inclusive range that was important for Munson and grounded in her own personal experience. "Many brands only offer standard or plus which can size you out of favorite wardrobe staples," she says. "I am acutely aware of this as I have been sized medium to 2X in my adult life." In addition, the collection is priced affordably — all shortlettes are in the $25–$40 range depending on the style. The brand also offers customers one free replacement if the size they order isn't quite right. Munson explains that, for many customers, once they find the right size and style (with help from Undersummer's fit team), they'll often come back to get more pairs. "They [find they] need one for every day of the week and a second daily pair for nighttime," she says.
Shop all Undersummers
If you, too, are ready to snag a pair of shortlettes (and I highly recommend you do so before skirt/dress season gets into full swing), Undersummers is offering Refinery29 readers an exclusive $10 off with the code R2910 at checkout through May 31, 2022, 2 p.m. ET. Or, if you already know that you want a bundle, buy three and you get one pair free with the code SHORTLETTES at checkout (all four pairs need to be in your cart for the code to work). Rest assured that this safety layer will keep you fully protected if you wanna hike up that hemline at any point this summer.
At Refinery29, we're here to help you navigate this overwhelming world of stuff. All of our market picks are independently selected and curated by the editorial team. All product details reflect the price and availability at the time of publication. If you buy or click on something we link to on our site, Refinery29 may earn commission.
Like what you see? How about some more R29 goodness, right here?
Powered by WPeMatico