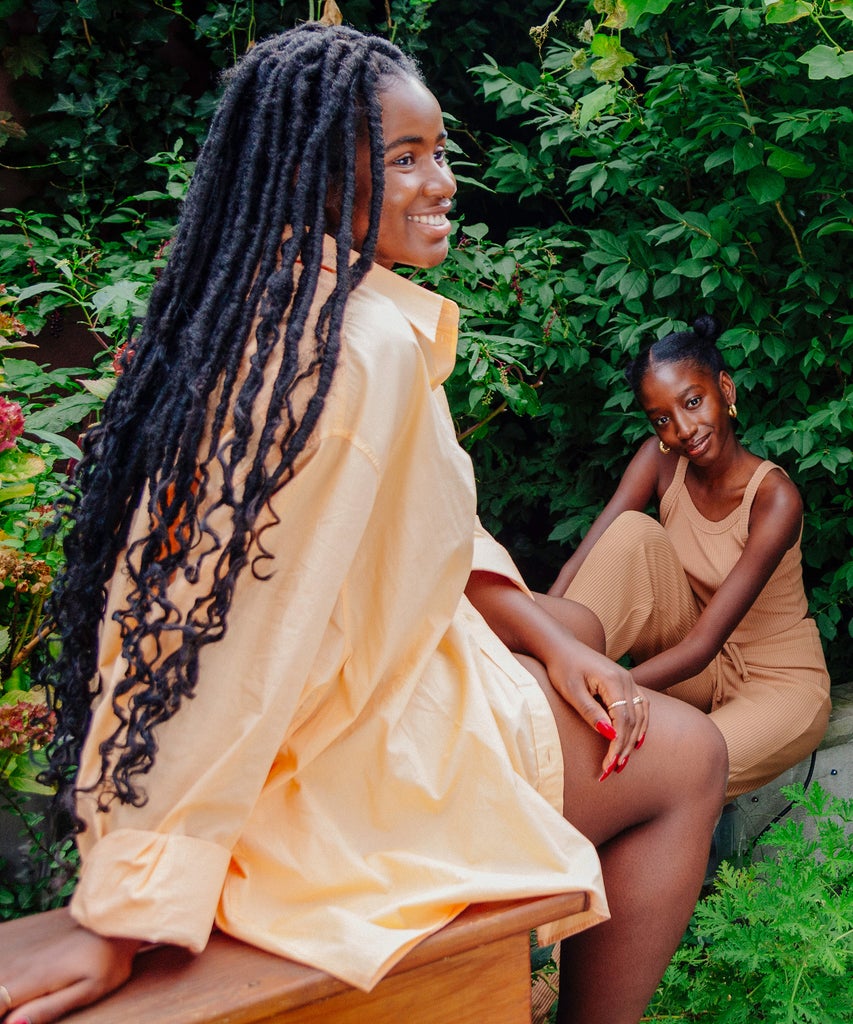 Follow the hashtag #SoftBlackGirl on Instagram and you will be inundated with tens of thousands of ethereal posts emulating something of a Bridgerton tea party. From picnics in a meadow and bonnet-adorned afros perusing country estates to books read beneath cherry blossom trees and pastel midi dresses billowing behind a basketed bicycle, it's easy to lose yourself in this online fairy tale community. Seemingly worlds apart from the consistently depressing news cycles and the worries brought on by the cost of living crisis, I'm unashamed to admit that a Soft Black Girl Summer is something I crave. 
With  Cottagecore fashion trending worldwide, the vibe has shifted undoubtedly to pastels, pinks, countryside, corsets, florals and frills, and the likes of @allureriah, @hillhousevintage and @biancalonesse have modeled this new era to perfection. Emitting something out of a renaissance painting or a scene from Downton Abbey, Soft Black Girl influencers are taking up space in a landscape where whiteness has only been permitted to occupy our imagination. And, whilst this trend is undoubtedly a pallet cleanser for our timelines, these images, staged and purposeful, are not only pleasing for the eye. Over their TikTok videos, soundbites tell us, "Welcome to Black woman Bare Minimum, a safe space where you can do the least, and bet the most."
Knowingly or not, this trend signifies an antithesis to the many stereotypical perceptions of misogynoir that define Black women by adjectives such as "strong" and "independent." We're emboldened in our suffering yet taught we're less deserving of safety, peace, and love. We're to be pitied and saved — but also feared.  More than just a soft aesthetic, this trend motivates us towards a soft lifestyle. One that focuses on relaxation, leisure pursuits, space to explore hobbies, unlocking our creativity and spending time in and around nature. 
Soft Black Girl Summer encapsulates the Black feminist ethos of Rest as Resistance. This tool of social justice and liberation supported by the likes of Audre Lorde and bell hooks, recognizes that we can't look after others if we're not looking after ourselves. It's not healthy to consistently be in fight mode, doing the most to serve our communities, fight our oppressors and just barely keep our heads above water. As Black women we navigate all the battles and barriers of everyday life with generational racial trauma on our shoulders. Deep rest as a form of radical self care — not the kind of commodified self-care we find packaged into facemasks and spa days — is a direct rejection of a capitalism that tells us we always need to be productive, and a white supremacy that makes that productivity so much harder and more painful to attain and maintain. 
That's why this year I'm embracing a Soft Black Girl Summer with arms wide open! As someone who's wardrobe tends to imitate that of a dungaree cladded toddler, it's less about the hyper-feminine aesthetic for me – although I am becoming inexplicably drawn to gingham of late – and more about embodying a movement.  Doing so feels integral to my slow and intentional burnout recovery. My Soft Black Girl Summer will include submitting myself to the breathtaking hills and reservoirs of the UK's Peak District. In taking myself on solo trips in my van to write, I hope for introspection and comfort in being alone. Whilst sharing adventures with the core group of people I feel most at home with, I hope that after a day of double dares on rope swings and clinking pint glasses to celebrate a successful hike, I feel held and loved. 
It will include an intentional slowing down, one that means re-evaluating the ways I'd usually spend my summer. Aside from Carnival (which is in and of itself an exhibition of self-love) I will challenge myself to redefine 'fun' as something no longer associated with back-to-back festivals, traveling between cities and countries, and long days spent recovering from hangover after hangover. Traditionally my summers would be overflowing with plans. I'd work for a weekend spent distracting myself from the exhaustion and overthinking those moments of rest would bring. This year I will recognize that a summer of running away is not conducive with the healing I want to achieve. 
And, as a domestic abuse survivor I recognize that my healing is a matter of necessity. A Soft Black Girl Summer feels like a reclamation of joy. It's about creating a space of safety for myself. So often our healing is at the behest of the criminal justice system, one that tells us that only on the rare occasions when our perpetrators are convicted can we begin to move on with our lives. We're expected to sit within our trauma, be consumed by it and regurgitate it in order to be believed. Leaning into nature therapy as a form of healing justice, is therefore a vulnerable and oftentimes uncomfortable taking back of control. 
A deep exhale as my toes dangle into a glistening stream, phone without signal, is all it takes for me to relinquish myself from the weight of existence and just be. I recognize that my wonky tripod capturing a poor-quality wild swimming shot is unlikely to initiate me into the Soft Black Girl Social Media alumni. The reality is that for most of us our lives simply can't emulate the picture perfect image we double tap on our Instagram feeds, and it's important that Soft Black Girl Summer doesn't get lost in an unattainable social media movement but remains grounded in the Black Feminist roots it pays homage to. Alongside an abundance of joy and tranquillity, my Soft Black Girl Summer will likely involve a lot of crying, thinking and un-learning. And that's okay.
Adopting this lifestyle into the nuance that is Black womanhood will allow it to translate into slow evenings, which permit us to pause at the end of a busy day, an awareness of our boundaries and feeling confident in upholding them, an exploration of activities that bring us joy, and a returning to community when we need to feel held. The feelings of freedom and contentment are all things we can explore this summer.  Hopefully, in doing so we will find coping mechanisms that stand the test of time. By embedding a Soft Girl Summer into our everyday outlook, we take a stand that says we are worthy of peace, of comfort, growth and joy — all year round.
Like what you see? How about some more R29 goodness, right here?
Black Women & The Cultural Pivot To Softness
Reclaiming Audre Lorde's Radical Self-Care
Powered by WPeMatico