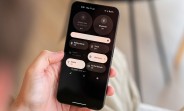 Nothing is rolling out version 1.1.2 for the Nothing OS (1) for the Phone (1). It's a minor update but brings some useful improvements to the phone.
The always-on display feature will now by have the custom schedule on by default. This means the feature will automatically turn itself off at night. The user can still manually change this to be on all the time but it's no longer the default behavior.
Change log. Note the lighter shade of gray for the background in the updated version.
This update also added an option to make the fingerprint icon appear when the display is…
Powered by WPeMatico