Welcome to Refinery29's So, How Is It Really? where we take a look at all of the topics that have the internet talking. In studying them up close, we answer the question of what it's really like to try out a trend like a butterfly top, a viral product, or an unexpected TikTok hack.
When the Blumarine spring 2022 collection first debuted, I was hesitant about the Y2K fashion comeback. Here was a collection completely devoted to bringing back low-rise jeans, denim-on-denim looks, and butterflies in full swing. The latter in particular seemed to urge shoppers to undergo a metamorphosis out of the sweatpants and Nap dresses that marked the lockdown era and into midriff-revealing butterfly-shaped tops for Hot Girl Summer.
I instantly had flashbacks of Mariah Carey at the VH1 Divas Live Concert in 2000, wearing a pink-and-green bedazzled butterfly top with low-rise jeans and wondered for a second if I had just traveled back in time.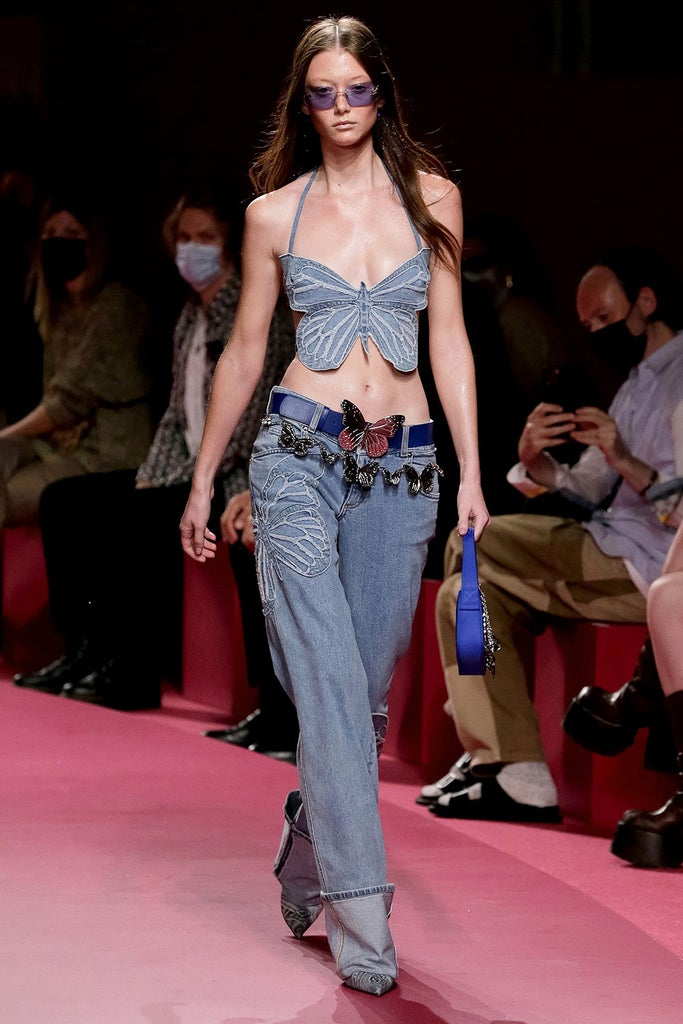 But then, today's It girls started wearing the going-out top en masse: Olivia Rodrigo wore a blue-and-green sequin butterfly style on Instagram; Anitta wore a deep green iteration from her Shein collaboration; and Dua Lipa sported the Blumarine denim halter. While I could see the appeal of wearing a butterfly on a baby tee, I had a hard time imagining myself — a fan of neutral colors, capsule wardrobes, and crisp white shirts — wearing a bedazzled, floss-string top out of the house. 
Yet, like many millennial-Gen Z cuspers that were too young to take in the more risque Y2K fashion trends of the AOL era, I had to give my inner child closure. So I set to try three butterfly top styles.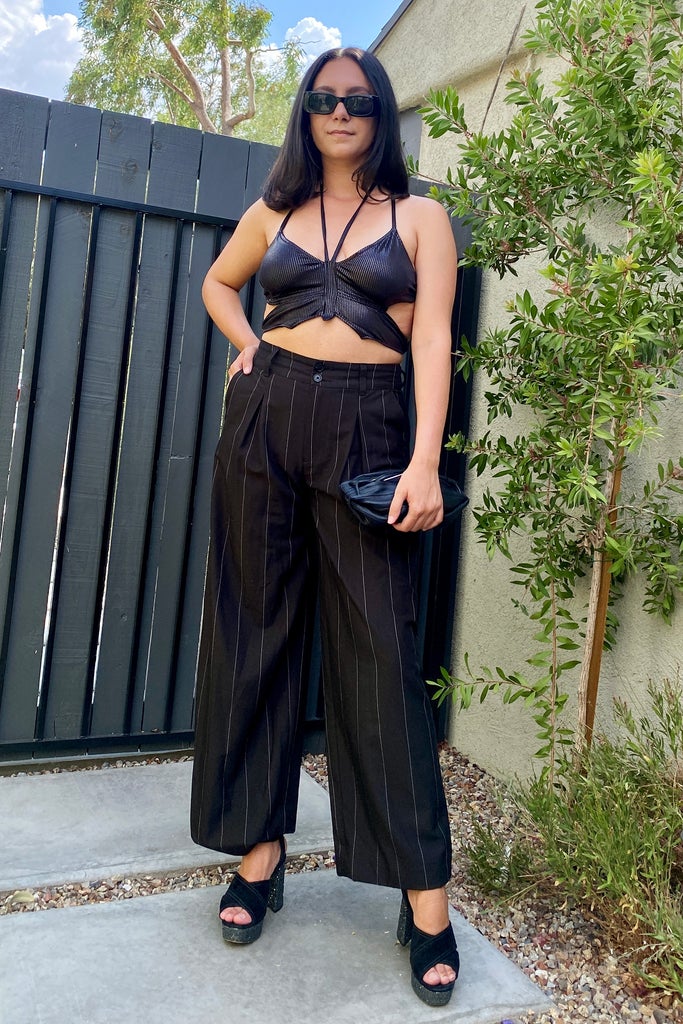 For the first look, I chose a glistening black top from H&M. For my debut night out of the warm-weather season, I paired the style with pinstripe wide-leg pants and a pair of glittery platform sandals. While the look bared more skin than I would have usually liked, it provided just the right amount of glamour to motivate me to march to a cocktail bar, dance the night away with friends, and stay up past my usual Cinderella-style curfew. 
Maybe it was the child in me unleashed, or the fact that I wore my uniform of all-black, but somehow my initial shock of seeing butterfly tops come back in style seemed absurd: What was I so afraid of? Having fun?
For the second look, I wanted to take the Lovers and Friends crochet butterfly top to a beach day. But first I had to get into it, a feat that I'm still surprised I managed to accomplish. As someone who appreciates the simplicity of buttons and zippers, adjustable strings are my worst nightmare. I spent about 15 minutes tugging and pulling the straps, adjusting them to fit my chest without losing its butterfly shape.
Once I was tucked in perfectly, I paired the pastel look with linen pants, slides, and a straw hat, and enjoyed the breeziness of the crochet that made it feel like I had nothing on. Still, the bad tan lines were not worth it; I should've stuck to a more appropriate setting — let's say, brunch or a day at the park under a shady tree — to avoid the sunburn disaster that ensued. 
For my next look, I decided to opt for a non-traditional way to sport the butterfly top. As I mentioned before, I have a soft spot for white shirts which has transformed into a love for shirt dresses this season — a style that I've regularly styled with harnesses to provide a bit of structure to the otherwise flowy silhouette. So why not think of the butterfly top as a type of harness? The Edikted studded butterfly top provided just the right amount of detail to glam up the shirt dress and made the straight-out-of-2003 style look modern and dinner-appropriate, rather than club-ready. 
Throughout this experiment, I learned that the key to participating in trends is to make them your own. While on TikTok, butterfly tops appear in a never-ending loop of outfits styled with other Y2K contemporaries like low-rise jeans and platform heels, there are ways to opt out of the early aughts revival. Styling a butterfly top with a work-appropriate dress for a dinner date gave my younger self peace of mind: I had developed my personal style enough to know just how to partake in popular trends outside my comfort zone without letting go of myself. 
And isn't that what metamorphosis is? Growing out of the chrysalis into the unknown, blooming into your most authentic self. 
At Refinery29, we're here to help you navigate this overwhelming world of stuff. All of our market picks are independently selected and curated by the editorial team. If you buy something we link to on our site, Refinery29 may earn commission.
Like what you see? How about some more R29 goodness, right here?
Here's How To Wear Y2K Butterflies In 2021
Blumarine Owes Its Fashion Comeback To TikTok
Powered by WPeMatico