The Sony Xperia 5 II may be the smallest 5G phone yet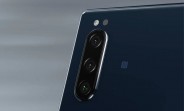 There were rumors about a large Sony Xperia 5 Plus, but that never came to be. Now there's talk about a phone that is quite the opposite – an Xperia 5 II with a sub-6″ screen. This phone will be released in Japan in the second half of this year, according to insider sources.
The phone will have a 5.6-5.8″ screen, down from the 6.1″ panel on the first Xperia 5. There's a high possibility that this phone will have 5G connectivity, which will make it the first sub-6″ phone to have 5G.
And it will be only Sony's second 5G phone, the other being the Xperia 1 II. There's also the Xperia Pro,…
Powered by WPeMatico