Flashback: the Nokia N95 was a high point for Symbian but also the beginning of the end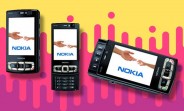 The Nokia N95 was peak Symbian – the phone came out in early 2007 and did everything. It was a feature rich phone that got even better when the Finns introduced the Nokia N95 8GB (aka N95-2) a few months later.
Nokia N95
This was around the time that the original iPhone was introduced and while Apple stunned the world with the carefully thought out user interface built around a capacitive multi-touch screen, the smartphone capabilities were lacking at best.
Remember that the Apple App Store wasn't introduced until the following year, Steve Jobs and company initially bet on…
Powered by WPeMatico