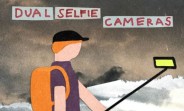 Selfie sticks are this generation's cellphone holster – some wouldn't be caught dead using one, but others need it. Well, if you buy the OnePlus Nord you won't need to suffer embarrassment says the company as you can use the ultra wide selfie cam instead of a selfie stick (the wider lens fits more in the frame, even at an arm's length).
The Nord will be the first OnePlus to have a dual selfie cam. The secondary module will have a 105° ultra wide-angle lens, as seen in this teaser posted on the Nord's Instagram account.
View this post on Instagram What a way to go….
Powered by WPeMatico