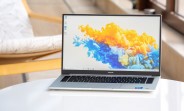 Introduction, unboxing, compared to AMD model
This is the Honor MagicBook Pro and it's the 16.1-inch bang-for-buck champion in Honor's lineup of laptops at the moment.
We had a run-in with this machine back in September and did a full review on it, only it was powered by the AMD Ryzen 5 4600H with built-in Radeon RX Vega 6 GPU.
The unit we have today is the Intel Core i5-10210U-powered model with an NVIDIA GeForce MX350 GPU with the rest basically unchanged.
We'll go over the hardware aspects of the Honor MagicBook Pro but won't get into too much detail as anything outside of…
Powered by WPeMatico