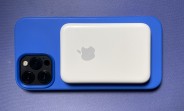 Apple's $99 MagSafe battery pack has already reached its first customers, one of whom, Steven Russel, posted photos and first impressions of the device.
Apple MagSafe battery pack on an iPhone with a white silicone case
It's made out of hard plastic and is somewhat chunky. If you have plug a 20W adapter (or more) directly to the Battery Pack, it will be able to charge the MagSafe pack and the phone simultaneously.
With brown and blue silicone cases • No case
The pack sends 15W of power wirelessly to the phone while it's connected and just 5W while used portably….
Powered by WPeMatico